Are you looking for a bamboo mattress pad or mattress topper to make your mattress feel better?
You've come to the right place.
Technically speaking, bamboo mattress pads & mattress toppers can improve your existing mattress experience in two ways:
Adjust the firmness of your mattress

: bamboo mattress pads and toppers can make a too-firm mattress feel softer on your back, hips, and shoulders; and, some bamboo mattress toppers can make a too-soft mattress feel firmer. 

Cool your bed: bamboo toppers & pads can make a hot-sleeping foam mattress feel cooler.
4 Types of Bamboo Mattress Pads & Toppers
Bamboo mattress pads and toppers are available in 4 basic types today, including:
Foam topper with a bamboo cover

: This is the right choice for people who want to retain the feel of a memory foam mattress while cooling the bed a bit.  You can firm or soften a bed with this type of topper.

Foam topper infused with bamboo charcoal: 

This is the right choice if you want more cooling, but you still don't want to lose the classic snug-fit memory foam feel. You can firm or soften a bed with this type, as well.

Fiber-filled mattress pad with a mix of synthetic and bamboo fibers.

Bamboo fiber-filled mattress pads are great for cooling and slightly softening a too-firm foam mattress.

Fiber-filled mattress pad with a bamboo cover

. Pads filled with synthetic fiber are also soft and plush, but they don't offer the as much cooling as a bamboo-fiber pad.  But they cost less.
What's In This Buying Guide
In this buying guide we recommend & compare the best bamboo mattress pads and toppers sold today in four categories.
We also discuss the benefits & drawbacks of bamboo pads and toppers and discuss the features to look for when buying one.
So let's dive in – with our top picks.
Best Bamboo Mattress Toppers & Pads
In a rush? 
Listed below are our top picks for several common needs and situations, followed by a comparison chart to help you decide which one is right for you: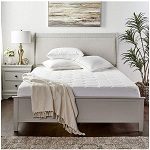 Zen Bamboo Pad

Materials:
40% bamboo, 60% microfiber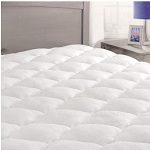 ExceptionalSheets pad

Materials:
Polyester fiber filling and bamboo cover
Lucid

Best Hypoallergenic Reversible

Materials:
gel memory foam
Cheer Collection Pad

Best Plush Bamboo Mattress Pad

Materials:
Hollow fiber with bamboo cover
Langria

Materials:
gel memory foam
Elegant Comfort pad

Materials:
Polyester fiber filling and bamboo cover
We love the Zen Bamboo mattress pad for its noticeable cooling effect and its bargain price. 
That said, this pad not as thick or plush as a mattress topper, so if you want to dramatically soften a firm mattress this isn't the right choice. 
This pad is designed to slightly soften the surface of a firm mattress while not making it too plush.
Cooling performance is a highlight of most Zen mattress pads. They use a mix of bamboo rayon and microfiber inside the pad to accomplish this.
Bamboo rayon fibers offer a lot of benefits including improved breathability, cooling, as well as moisture-wicking.
So, this Zen bamboo mattress pad is an great choice option for hot sleepers on a budget looking for a way to sleep cooler and slightly soften their memory foam mattress.
Although the manufacturer does not specify what the cover is made of, it is likely to be 100% polyester or a mix of polyester rayon and bamboo rayon.
It feels soft and breathable in any case.
The Zen mattress pad can also be used as a mattress protector to keep allergens and stains from getting into the mattress. However, the pad is not waterproof.
This mattress pad can be machine-washed on cold and be tumble-dried on low heat.
The pad is elasticized around the edges to make it easy to fit on mattresses up to 18 inches thick, which means it will fit most pillowtop mattresses.
This is not the mattress topper for you if you want a thicker, plusher mattress. This mattress topper only adds a moderate amount of softness.
Side sleepers who need a lot more pressure relief than a pad can give will want to look at memory foam toppers, instead.
In our opinion, the Zen Bamboo mattress pad is one of the best deals out there right now for a cooling mattress pad. It is durable, comfortable, washable, and made of high-quality materials.  
And the price is tough to beat.
We recommend the Exceptional Sheets Bamboo Mattress pad for those with allergies and asthma.
The mattress pad is made with Revoloft, a hypoallergenic fiberfill that replaces down.
The Exceptional Sheets pad feels softer and more comfortable than the Zen pad. This makes it an excellent choice for people who need more pressure relief.
A bamboo cover is included to cool the pad.
The Exceptional Sheets pad is the most expensive pad on our list. 
Not surprisingly, it offers a more luxurious and softer experience than most other bamboo mattress pads.
The Revoloft fiberfill used in it gives the mattress a plush or fuffy feel, which is excellent for people who have back pain or side sleepers. 
This mattress pad is an excellent choice if you want to soften the surface of your mattress but don't want to sink into a memory foam topper. 
The fiberfill is hypoallergenic, too. Unlike down, it is unlikely to cause allergic reaction or worsen asthma symptoms.
The bamboo cover helps with cooling but is not as efficient as the Zen bamboo mattress pad.
The ExceptionalSheets padded mattress pad comes with a stretchy skirt that should fit all mattress types up to 18 inches thick. 
The pad is machine washable, too.
Although the bamboo cover does help with cooling, it is not as effective as a topper filled with bamboo fibers.
The ExceptionalSheets mattress pad is an excellent option anyone who is sensitive to common bedding materials. 
It is hypoallergenic in every way, from the cover to the filling.
The Lucid topper is a different kind of memory foam topper. 
It's not a just simple slab of foam like most budget products.
Instead, it uses three different three layers of foam with different properties. 
The middle layer consists of soft gel memory foam. It contours easily to your body and provides pressure relief for your shoulders, back, and other pressure points. In addition, to help you sleep cooler, the gel draws heat away from your body.
The two outer layers that sandwich the gel memory foam are also made of memory foam but are infused with bamboo charcoal.
Bamboo charcoal aids in cooling and helps regulate moisture. That said, the foam should be kept dry to prevent the growth of mold and mildew.
To support the spine and ensure alignment, the outer layers of the Lucid Topper are denser than the middle layer.
The Lucid topper is also reversible, with an egg crate design on one side to improve body contouring and allow for better airflow. The egg crate side presents a softer surface for more pressure relief. 
Or, you can flip the topper to the flat side if you prefer a more supportive surface.
Although the Lucid topper doesn't come with a cover, it is designed to be covered with a sheet.
The egg crate layer on the top can get loose and stray after some time, which can make it less comfortable. It can be annoying, but it'seasy to move it back in place.
The Lucid mattress topper is a great choice for softening your bedroom mattress. The reversible feature means you can buy online with confidence knowing that you will probably find exactly the firmness level you want.
The Cheer Collection bamboo mattress pad provides a plush feel that you cannot get from memory foam toppers.
It's noticeably softer than mattress pads and cradles your body to relieve pressure points on your hips, back, and shoulders.
Side sleepers who feel their mattress is too hard on their hips or shoulders should definitely consider this one.
The Cool Tough mattress topper filler contains no bamboo fiber, but instead uses a hollow fiber that gives the pad its luxuriously plush feel.
Instead, bamboo is used in the cover to make it cooler, more breathable, and to wick sweat better, and makes it softer. For added durability, the bamboo is mixed with polyester.
The topper comes with an elastic skirt that will fit mattresses up to 18 inches thick. 
The Cheer Collection pad should be machine-washed in warm or cold water and tumble-dried on low heat.
Cooling performance is average, not exceptional. There is a lot of light/airy fiberfill however so it will be comfortable for most people. 
A mattress topper with bamboo fiber filling is a better option for hot sleepers.
The skirt's fabric quality is another potential issue. The skirt is rather thin and easy to tear if not stretched carefully over the mattress.
Although it is more expensive than most other mattress toppers and pads, the Cheer Collection bamboo mattress topper is a truly luxuriuous upgrade to your existing mattress.  And it's a lot less expensive than upgrading to a new plush top mattress.
Memory foam is the best choice if you need more pressure relief, because it molds to your body like none other material.
The LANGRIA3" topper is the best choice for anyone who likes the feel of memory foam but want a softer mattress. 
It can be used on a futon, sofa, or temporary floor bed too.
This topper is superb for pressure relief and will do a great job insulating you from your partner's tossing and turning in bed. 
The LANGRIA topper comes with a bamboo cover that improves cooling and breathability. It also has a soft touch to the surface. As a result, the topper can be used directly on your skin without the need for a sheet.
The memory foam is enclosed in an inner polyester cover.
The outer bamboo cover can be removed and washed.
Both the bamboo cover and gel memory foam help to cool your body down. This topper gets high marks from most owners even on the hottest nights.
The Elegant Comfort pad is another great budget-friendly option if you don't like Zen Bamboo mattress pad.
The hollow fiber filling is similar to down, so it makes this pad very soft, althought the thickness will limit how much give it provides. 
The cover fabric is a mix of polyester (60%) and bamboo rayon (40%), which helps to keep you cool and wicks away moisture. The cover also has a very soft feel.
The Elegant Comfort mattress pad is not as fluffy as other pads. Therefore, we only recommend it for people who are looking for a slight change in their mattress feel.
It is very easy to attach this pad to your mattress. The elastic skirt can be easily pulled down to cover mattresses up 16 inches thick.
The Elegant Comfort mattress pad should be machine washed in cold water and tumble-dried on low heat – or air-dry it to prevent shrinkage.
This is not the right mattress pad for you if you are looking for something plush.
The Elegant Comfort mattress pad might not do enough if your mattress is extremely firm. This is best for lightly softening a medium to medium-firm mattress.
Your mattress will not transform into a 5-star hotel-quality mattress, but the Elegant Comfort mattress pad will definitely soften your bed.  And the price is nice.
Buying Guide: What to Look For in a Bamboo Mattress Topper or Pad
You probably won't find a mattress topper or pad made of 100% bamboo – nor would you want one. 
Instead, most manufacturers only use bamboo fibers and fabrics in their cover and filling. 
Bamboo rayon is the most popular material used in pads and toppers because it is extremely soft and provides great cooling properties. However, the downside is that bamboo rayon manufacturing isn't very environmentally-friendly.
Bamboo lyocell is arguably more eco-friendly than bamboo rayon, but it is quite expensive and rarely used in a pad or topper. 
Bamboo linen is another option. Mattress pads made from bamboo linen are extremely temperature-regulated. However, bamboo linen isn't as soft as bamboo rayon and bamboo lyocell, and it is expensive.
Bamboo charcoal is sometimes infused into the foam of some mattress toppers. The charcoal is a natural odor controller, moisture controller, and improves the topper's resistance to allergens and bacteria.
A mattress pad is generally thinner than a topper is constructed more like a blanket – it is thin with a little fiber padding. 
A pad is the right choice if you want to soften your mattress surface a little bit and make your bed a little bit cooler. 
Unlike toppers, a mattress pad usually is secured to your mattress surface using an elastic skirt or another mechanism to make sure it doesn't slide out of place at night.  
Generally speaking, you wash the entire pad in your washing machine.
A mattress topper, on the other hand, is usually much thicker than a pad and often includes memory foam layers / not fiber. 
The majority of mattress toppers are 2-3 inches thick, for example. 
Mattress toppers are laid on top of your existing mattress to firm or soften the surface and typically cost more than a pad. 
You can normally wash a topper's cover, but not the inner padding.
Fitting A Mattress Pad or Topper
Two things are essential when it comes to mattress fit: the size of the pad/topper and the depth of your skirt, if a pad.
If you have an especially thick mattress like a pillow top, make sure your mattress pad has a deep enough elastic skirt to fit under it. Most mattress pads have deep elastic pockets that can accommodate mattresses as thick as 16-18 inches.
Mattress toppers, on the other hand, don't usually come with a skirt. Instead, most toppers have a nonslip bottom that prevents the topper's movement.
You can better secure your mattress topper with a mattress cover if it keeps moving.
Check to see if the mattress pad can be machine washed if you're buying one.
Most mattress pads can be machine washed and tumble-dried on low heat. 
However, it is best to wash the pad in cold water to prevent damage to the bamboo rayon. 
It is essential not to mix it with other clothing, either, particularly if it has buttons or zippers. After putting the mattress pad in, your washer won't have any extra space.
For mattress toppers, generally speaking you can only wash the cover. 
Benefits of Bamboo Mattress Toppers & Pads
When used in a topper, bamboo microfibers create an incredibly soft and comfortable sleeping surface. 
A memory foam topper with bamboo charcoal or a cover made of bamboo will also cool your body a bit more than non-bamboo materials.
A mattress topper made of memory foam and bamboo cover will provides a deep hug for your body, while the bamboo fabric provides a luxuriously soft fabric that won't irritate your skin or trigger skin allergies.
Breathability and Cooling
Whether in sheets, pillows, or comforters, bamboo bedding is known for its exceptional cooling properties.
Bamboo pads are a bit better than toppers when it comes cooling. A pad has more bamboo rayon fibers which increase cooling; however, unlike a topper it doesn't contain heat-retaining memory foam that counteracts the cooling effect.  
Bamboo is also great for night sweaters. Bamboo's cooling effect helps to reduce sweating and bamboo fibers are great at wicking away sweat quickly.
Bamboo rayon is naturally hypoallergenic. This makes bamboo toppers and mattress pads ideal for people with asthma or allergies.
Bamboo also has antibacterial properties that will make your mattress healthier and fresher.
Although synthetic microfiber pads are comfortable and fluffy, they don't last long. They also lose their softness quickly and can flatten after a few months.
Natural fibers like bamboo rayon, on the other hand, are generally stronger and more durable. 
In addition, covers containing bamboo fibers will keep their soft touch longer.
Frequently-Asked Questions About Bamboo Toppers
Are bamboo mattresses toppers any good?
Bamboo mattress pads and mattress toppers can soften a firm mattress, improve pressure relief, and make a hot memory foam mattress feel a bit cooler. Many bamboo mattress toppers are also hypoallergenic and antibacterial.
How do you clean a bamboo mattress topper?
Most mattress pads made with bamboo fiber infill and/or bamboo covers are machine-washable in cold water and can be tyumble-dried on low heat. 
If you own a bamboo-covered foam mattress topper, then you can remove the bamboo cover to clean it the same way.  
The foam layers in a bamboo-infused memory foam topper cannot be machine washed.
Do bamboo mattress pads shrink?
Yes, bamboo is a natural fiber and some shrinkage will happen after the first wash. However, this is generally not the same amount of shrinkage as a cotton pad, and it will not affect the mattress pad's comfort.
To prevent excessive shrinkage, wash your mattress pad in cold water and tumble dry it on low.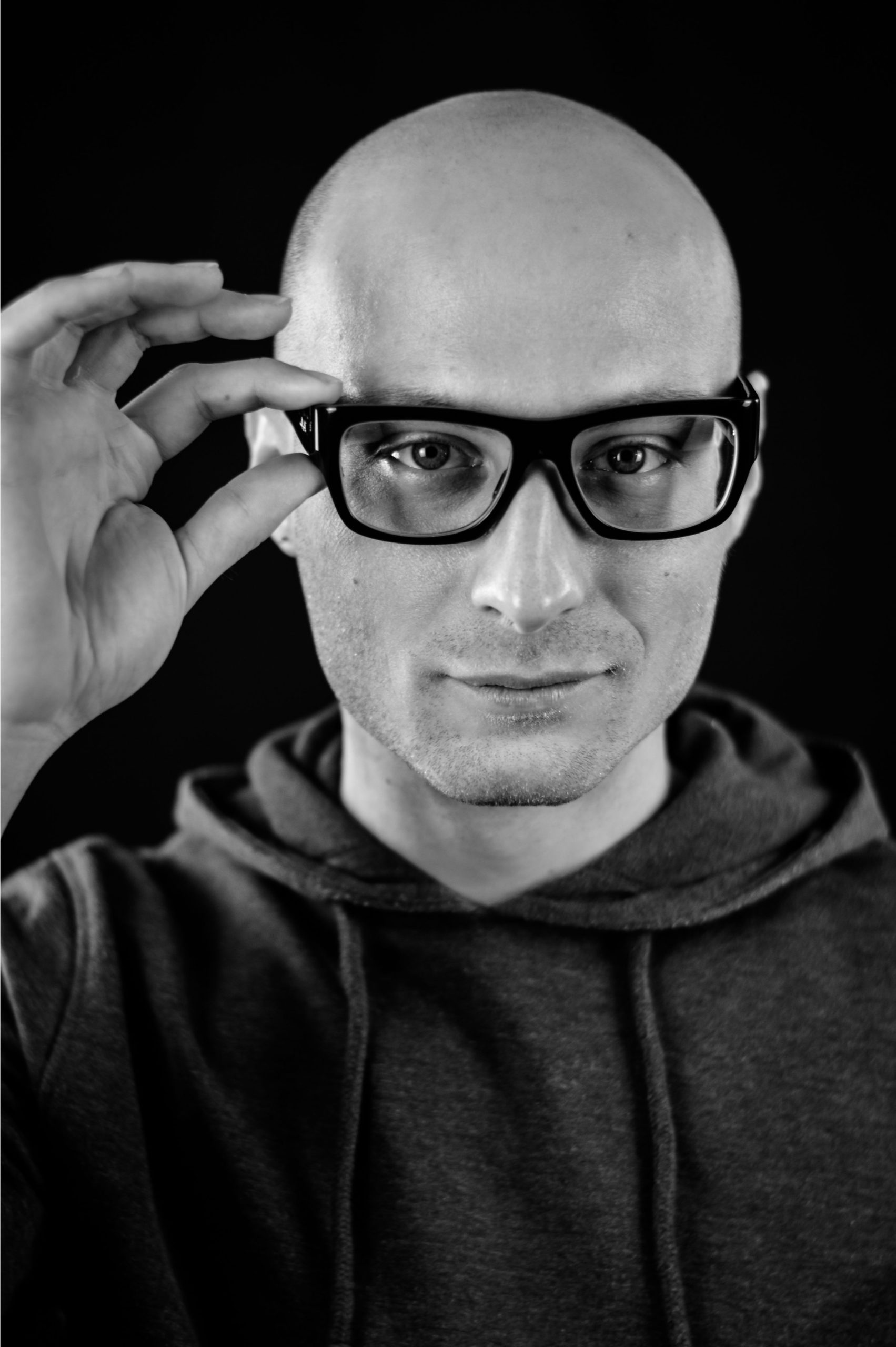 As a degreed engineer, I love new technology as much as you do (perhaps more). I also understand how to sort the best products from the rest. My team and I spend dozens of hours each week reviewing the best & latest products for your bedroom. Many are tested in-house, and others we break down based on our technical understanding. Whether you need a bed-cooling system, an adjustable bed, or a new CPAP machine – we've got you covered.