Are you looking for a bed cooling system that really works?
Then read this guide before buying!
There are many kinds of bed cooling systems, from simple passive products like mattress  toppers to more sophisticated active cooling systems that use water or forced air to maintain a comfortable temperature.
This in-depth buying guide reviews and compares the best bed cooling systems on the market, with a focus on active cooling systems – because they work far better than anything else.
Tip: Check out our best-cooling mattress reviews if you are instead looking for a cooler bed.
Does A Cooler Bed Really Help You Sleep?
According to the National Sleep Foundation, the ideal temperature for sleeping is between 60 and 67 degrees Fahrenheit.
It is more difficult to fall asleep if your bed is too hot. This is something you've likely experienced before. 
A too-warm bed can cause more wakefulness at night due to sweating and decrease the duration of REM sleep, which is vital for brain function and overall health.
Sleeping warm at night will make you feel dizzy, tired, and moody even though you've been in bed for 8 hours.
Cooler beds not only help you fall asleep faster, they also make it easier to stay in a deeper sleep longer through the night. 
People with high metabolisms, hot flashes, night sweats, or menopause, especially need a cool bed to sleep in.
If you suffer from any of these conditions, this guide will help you find relief.
What's In This Buying Guide
Three Types of Bed Cooling Systems
1. Passive Cooling: Mattresses, Toppers and Pads
Passive cooling systems cool the bed through two mechanisms: by increasing the bed's ventilation (airflow) and/or by using special materials to transfer body heat into the mattress, then dissipating it.
Passive cooling systems include mattress pads and toppers and gel-infused memory foam mattresses. To keep the bed cool, they use cooling gels, ventilation, aerated foam, and cooling fabrics like bamboo.
Toppers and pads can be effective for many people, but they have a limited cooling capacity.
They generally don't work when the bedroom is humid and more than 80 degrees Fahrenheit, for example.
Passive cooling systems are especially not effective for people suffering from night sweats, hot flashes, or a high metabolism – where the body emits abnormally large amounts of heat and/or humidity at night.
The primary advantage of passive cooling systems is that they are simple and inexpensive. 
For example, the cost of a gel foam topper is generally less than ½ of what you will pay for a more effective active cooling system.
Passive cooling systems are the best choice if you only require a slight cooling effect to improve your sleep quality. 
If you think this is the right kind of solution for you, then check out our buying guide to help you choose the right cooling mattress topper/pad for your specific needs.
2. Active Cooling: Air- and Water-Based Systems
Active cooling systems take a proactive approach to cooling. They do more than just absorb heat and dissipate it.
Active cooling systems are far more efficient at moving heat away from your body than passive systems. As such, they are the best choice for hot flashes ,night sweats, and those who sleep in warm and muggy environments.
There are three types of active cooling systems sold today. Each has its pros and cons.
Pillow and bed fans blow fresh air under your sheets to circulate cool air around you. 
The air is not heated or cooled, however. 
Fans are very affordable, which is their main advantage. 
However, there is one major downside: there is no active cooling of the air before it passes over you, so you won't see much temperature change if your bedroom is warm to begin with.  In addition, you won't get much relief from a fan if you remain under the covers.
Air-cooled systems like the BedJet use a powerful fan to blow cool air under your sheets and all over your body. The air flow uses convection & evaporaation to keep you cool beneath the covers.
Most air-cooling systems also provide heating. 
Air-cooled units offer the twin advantages of instant temperature relief and all-over-body cooling. They are also easy to maintain, requiring nothing more than an air filter change or cleaning every few months.
Unfortunately, the strong fans used by air-cooling systems can emit a lot of noise which some dislike.
The EightSleep Pod and ChiliSleep's Ooler systems circulate cool water against your body to provide relief.  To do this, most water-based cooling systems embed small tubes or channels in a mattress pad that allow chilled water to pump through them. 
Water-based systems offer two advantages over air-based systems, including very quiet operation and precise temperature control. 
Like air-cooled systems, most water-cooled systems also offer a heating mode.
Unlike them, however, water-based systems only cool the surface of your mattress, so only one side of your body – your backside – gets relief.
3. Advanced Cooling Systems
Advanced cooling systems include additional features beyond basic cooling. These include smart alarms and personalized settings.
The BedJet V3, the ChiliSleep Ooler and Cube, and The Pod by Eight Sleep are the best advanced active bed-cooling systems sold today.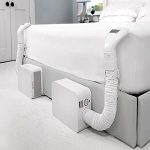 BedJet V3

BEST OVERALL (esp. for night sweats)

Wireless remote + smartphone app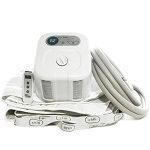 ChiliPad Cube 3.0

Best water cooling system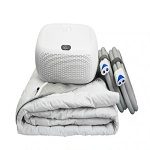 Ooler Sleep System

Smartphone app w/ Bluetooth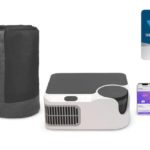 ChiliSleep Dock Pro

Best for extra-hot sleepers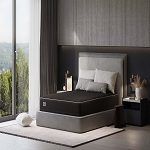 The Pod by Eight Sleep

Best smart cooling system

Control
Smartphone app/smart voice assistant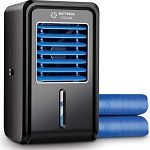 Mattress Cooler "Classic"

Best budget cooling system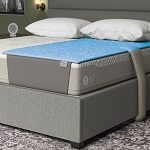 SleepNumber Dual-Temp v3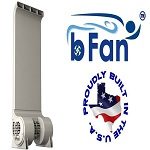 bFan Cooling System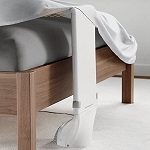 Brookstone bed fan
The BedJet V3 is the updated version of one of the most loved bed cooling systems. It is now smaller and comes with an excellent, intuitive full-color remote control. 
Like previous versions of BedJet, the V3 model blows temperature-controlled air into your bed to cool or warm you.
Air is a better choice than water for people suffering from sweat-heavy conditions like hot flashes or night sweats. You will feel cool and comfortable much faster because forced air removes excess humidity quickly – and with it, a lot of excess heat.
The BedJet base that contains the fan and cooling/heating elements is placed under or near your bed. It cools or warms the air and will fit under most beds with 6 inches of clearance underneath.
The BedJet V3 includes a well-designed wireless remote control with a color display screen. So you won't need to bring your smartphone to bed if you don't want to mess with an app during the night.
These are the settings and functions that you can adjust using the remote control:
Temperature
The temperature is adjustable between 66°F and 104°F. On the remote control screen, you can see current and set temperatures.
Choose from cool, heat, or turbo modes. Turbo mode speeds up the fan speed to cool your bed faster. If you feel night sweats, there's a dry mode.
Fan Speed
This allows you to adjust the fan speed and make it quieter or cooler.
Temperature Alarms
The BedJet also offers the ability to automatically wake you up in the morning by slowly increasing the temperature – no need for alarm clocks.
In our testing, I came to love this feature – it's very partner-friendly.
Dual-Zone Option
BedJet offers a dual-zone option for couples who have different comfort preferences. Dual-zone allows you to adjust the temperature of each side of your bed. In addition, both sides are adjustable using either remote control, unlike previous versions.
All of these functions are also controllable via a smartphone app. To connect BedJet with your WiFi network, you will need to create an account.
BedJet V3 does not have smart home compatibility yet, but it is on the way. This means that voice commands are not possible. However, the company promises that it will be made available in a firmware upgrade.
Biorhythm Sleep
Biorhythm sleep technology is another smart feature that we love. This feature was previously in V2. 
Many bed climate control systems only let you set one temperature throughout the night.
That said, in the real world lots of people fall asleep feeling cool but then awake at 2 AM shivering. 
BedJet V3 lets you set hourly temperature settings to adjust to your body's needs.
Overall, BedJet V3 is the most advanced and intelligent bed climate control system on the market. We highly recommend it for anyone who suffers from sweating at night. 
The latest version is more intelligent and easier to use – and the remote control cannot be beat.
The BedJet V3 is an excellent choice for hot sleepers who sweat at night and others who need a more powerful cooling solution than gel mattress pads.  
In addition, couples who fight over the thermostat will love the peace and comfort the DualZone option provides.
ChiliSleep's products are water-powered, which is a more efficient way to transfer heat than an air-cooled system due to water's superior thermal capacity. 
As such, the Cube can cool your bed to up to 15 degrees F below ambient temperature, whereas most air-cooled systems will struggle to close a 10 degree gap. 
And no matter what temperature you choose, you will get very precise cooling/heating. This is another effect of cooling with water instead of air.
A thin hydronic pad, called a Chilipad, is placed on top of your mattress. It uses straps to hold it in place while you sleep.
Inside the Chilipad are tubes that circulate warmed or cooled water through them. The tubes touch your back and remove body heat using conduction.  
Unlike air-cooled systems, however, ChiliSleep's Cube will not remove excess humidity or sweat from your body.
A small control unit, called the Cube, is placed under your bed. This is where the cooling water is stored, cooled, and pumped through the tubes. It also heats the water when in heating mode.
The Cube requires you to maintain the right water level to ensure it works as desired. To do this, you need to add distilled water to the 390-ml reservoir on the base unit.  You must also clean the unit every few months and add antibacterial solutions to ensure no bacteria builds up in the unit.
ChiliSleep's Cube, like BedJet, offers both single and dual-zone systems.  The temperature and programmable features are similar between the two.
The dual-zone Cube system consists of one large pad with two separate thermal zones, each zone connected to the Cube unit with its own tubes and remote control. This setup lets each partner set the temperature on their side of the bed to their liking.
Single and Twin XL size have one chiliPAD control unit, while Queen and King sizes have two.
If you own a Queen-sized bed, then you can choose between a single Queen dual-zone or 2 individual Twin XL units if you need separate temperature control.  
Although the pump and fan noises from the control unit can be annoying, it's not disruptive and can even be soothing.
Although ChiliPad does not offer smartphone nor smart home control, it does include a 3-button wireless remote that you use to adjust the temperature and turn on/off the cube.
There is a touch-sensitive control panel on the control unit, as well that has the same buttons – in addition, it displays the water temperature and provides a low water indicator.
The ChiliSeep Cube is the most precise and most efficient bed-cooling solution sold today.  Perfect for anyone who prefers to sleep cool without the effects of blowing air.
The Ooler Sleep system is similar to ChiliSleep Cube, but offers more control options.
Therefore, I won't repeat all of the common features here.
Ooler offers the same temperature range as the Cube and works the same way – with a Cube pumping warm or cooled water through a hydronic pad. It also offers single- and dual-zone options.
Ooler's tank is 900ml larger, however, so it doesn't need refilling as often. It is also a smaller physical unit that fits under lower modern beds.
Ooler's cooling system is also self-cleaning. An integrated UV light sterilizes the system so you don't have to add anti-bacterial solutions.
The main difference between these sibling cooling systems, however, is the way you control them. Chilisleep's Cube uses a dedicated wireless remote control, whereas the Ooler is controllable via a smartphone app.
To access the Ooler app's controls, you need to connect your smartphone to the system using Bluetooth.
Using the smartphone app you can adjust fan speed (silent, regular, or boost), set a time of day for sleep, and activate the warming wake-up alarm.
Unfortunately, we found the app is slow to connect to the system, and it can be difficult to set a schedule. We preferred to use the buttons on the control panel.
Chili should fix the app in time. If not, then you may find yourself reaching down each time to adjust the temperature.
Ooler is the better choice if you're looking for a bed-cooling system that self-cleans and you can control via your smartphone.
The Dock Pro is the third and newest bed cooling system from ChiliSleep. It comes with several improvements over the Cube and OOLER systems, the biggest more cooling power. 
Currently, the Dock Pro has the best cooling performance of any bed cooling system, making it a great pick for extra-hot sleepers, those with severe hot flashes and anyone who lives in a hot climate. 
The ChiliSleep Dock Pro has almost double the cooling power of the OOLER system.
While the temperature range is the same (55F to 115F), the Dock Pro can achieve a lower temperature than OOLER and Cube. It also cools the bed faster. 
If you get really hot in bed, the Dock Pro will get you feeling cool in no time. 
The Dock Pro comes with a new and improved mattress pad, the ChiliPad Pro. It is tubeless. 
Instead of tubes, it has a membrane that distributes cool or warm water over your bed. The membrane increases the cooling surface area, which further improves the cooling performance of the Dock Pro. 
You can order the Dock Pro in a ME or WE version (single or dual zone). The WE option for couples comes with a dual zone mattress pad and two control units. 
This lets couples set different temperatures for each half of the bed. 
Another big change in the Dock Pro is WiFi connectivity. Now you can control temperature and set sleep schedules wherever you are through the sleepme app. 
The app also has a warm awake feature that gently wakes you up in the morning by gradually increasing the temperature. 
Currently, the app has issues where WiFi keeps disconnecting. We hope ChiliSleep fixes it soon with an update. 
The ChiliSleep Dock Pro is not cheap, but it's worth it if you sleep extra hot. 
It has unmatched cooling performance that guarantees a comfortable night's sleep for hot sleepers and anyone with night sweats or hot flashes. 
Don't forget it can also keep you warm on colder nights. 
The Pod is also the best option for anyone who cares about tracking the quality of their sleep.
It has tiny tubes that circulate water through it and cool you down to your preferred temperature.
The temperature range is the same as Chilisleep's Cube and Ooler products, 55 F to 115 F.
Beyond its cooling function, however, the Pod is does more than other cooling systems.
Let's begin with how you control it. 
First, you don't need a remote control. Instead, your smartphone connects to The Hub (the base unit) via WiFi.
The Eight Sleep app can then be downloaded and controlled from there.
You adjust the temperature of each side of your bed using the app.
Smart Temperature Mode
The Pod system will automatically adjust the temperature throughout the night to suit your sleeping preferences.
Sleep Tracking
You can also track your sleep using the app. 
The Active Grid integrates biometric sensors, which track your sleep time, sleep cycles, and heart rate.
The app will then generate sleep reports that include recommendations for improving your sleep quality. 
A sleep fitness score is a rough indicator of your sleep quality.
Theoretically, changes in your sleep fitness score indicate how well or poorly you have been sleeping.  But in real practice, the accuracy of this is a bit questionable.
You will need a subscription to an 8PLUS membership to fully take advantage of the sleep tracking and reports. In addition to data, you will get access to coaching and additional content to improve your sleep quality.
Smart Home Integration
Did I mention that The Pod is also compatible with smart homes?
You don't have to use your smartphone while you sleep. Instead, simply connect your phone to Alexa/Google Assistant to control the temperature using your voice.
You can also integrate The Pod with your smart nightly routines (both Alexa and Google Assistant offer routines). For example, when triggered by a routine, the Pod will automatically cool or heat the bed before you get in.
Update: Eight Sleep now offers three Pod products, The Pod, The Pod Pro and The Pod Pro Max.
For added pressure point relief and to hide the feel of tubes in your back, the Pod Pro adds a thin contouring foam topper (1"). 
The Pod Pro Max includes everything that the Pod Pro does, plus an enhanced MaxChill™ Layer that includes copper, silver, and graphite to increase heat dissipation. The Pod Pro, Pod Pro Max and original Pod all provide the same amount of water-based cooling, however.
Update #2: Eight Sleep released a few more upgrades to the heating and cooling system. It can now react to the ambient temperature in your room and to local weather reports to ensure you are always comfortable.
The bed also features GentleRise(TM), a new wake-up technology. To gently wake you, the bed emits gentle vibrations that adjust the temperature and makes it vibrate when it's time for you to rise.
You also receive daily health reports that include information such as heart rate and respiratory rate.
What We Liked
If you're looking for a smart cooling system for your bed that you can control via your smartphone and integrate into your smart home, the Pod by Eight Sleep is your best bet.
The Pod is also the best option for anyone who cares about tracking the quality of their sleep.
The water cooling systems we've reviewed so far are extremely capable – but also expensive.
We recommend the Mattress Cooler cooling system if you are looking for something less expensive.
The Mattress Cooler Classic provides all the components of a water cooling system, including the central control unit, a mattress pad with tubes, and a remote control. Cool water is pumped through the tubes of the pad which draw heat from your body.
But to be truthful, there are sacrifices made to reduce the price.
One is the size. This cooling topper measures 27″ x 63″, which does not cover your bed and only a portion of your body.
The pad isn't the most comfortable, either – but that's probably a good thing. This pad is made entirely of plastic, unlike other cooler pads with soft covers.
This will work fine if you have a fitted sheet over it, however. 
But this cooling pad still works, despite the need to cover it up.
That said, the temperature of the water can only go down to 7-12 degrees below ambient temperature, unlike the Ooler and Cube which can maintain a 15 degree gap.
Another key loss to save money is that this is purely a cooling pad – it does not warm the bed like the other. 
But the price? It is unbeatable. 
And it works – just not as well as the others.
If you are looking for a bed-cooling system on a budget, then the Mattress Cooler Classic cooling system is the best option today. 
SleepNumber's DualTemp cooling technology works on the same air-cooling principle as BedJet.  It heats or cools the air in the room and pumps it under your sheets.
The DualTemp system is not like BedJet in one key way: it blows the air through a mattress pad on top of your mattress. 
Velcro strips attach the mattress pad to your mattress to prevent it from moving. You place a fitted sheet over the pad.
Each pad comes with its control unit, hose, and remote control. Only half-size pads are available, as well. 
This means that couples wanting dual-zone control will need to purchase two pads. 
DualTemp has no thermostat control, so precise temperature control is impossible. Instead, you can choose from cool, warm, or fan modes via the included remote. Cooling and warming mode both offer three fan speeds: low, medium, and high.
The temperature at which the pad cools will depend on how much it is in use. According to SleepNumber, the DualTemp pad can achieve a temperature differential of 8 degrees F from the ambient temperature.
The system also takes some time to cool or heat. You'll need to turn it on 20 minutes before you go to bed to ensure your bed is perfectly warm.
After 10 hours, the system will automatically shut off. You can adjust this setting from 1 to 9 hours.
Suffice it to say, we are not huge fans of Dual Temp.  Especially because it is so expensive. 
A half-bed DualTemp system is twice as expensive as a full-bed BedJet system.
It also lacks smart features such as smartphone control and warm awake alarm. 
Owners have complained that the remote control is difficult to use. For example, it controls the temperature on your side, but not your partner's.
The hose's placement is also inconvenient. DualTemp's hose is in the middle, unlike BedJet's hose at the corner-foot of the bed.
We recommend buying the BedJet air cooling system over the DualTemp system.  The BedJet is less expensive, allows precise temperature control on both sides of the bed, and offers more useful features.
The hose rises above the bed and rests on a solid, vented base.  You can fit the top of the hose under your comfort to blow air directly into your bed.
The latest redesign of bFan produces more air and less noise. According to the manufacturer, it has a higher static pressure, pushing more air through the sheets and providing better cooling.
The motor is also quieter, thanks to its brushless design.
The hose height can be adjusted from 19″ up to 38″, depending on the height of your bed. For taller beds, there is a 28''-38" option.
You can adjust the fan speed with the wireless remote control included with your bFan. The fan speed can reduce/increase airflow or noise level.
There is also an auto-switch-off timer.
It is easy to place the fan anywhere near your bed. 
However, the best place to position the fan is at the foot of your bed. This allows air to flow freely up to your body.
If your feet are hot at night, you can place them on the side nearest your feet or your head.
As you'd expect, bFan is cheaper than a temperature-controlled system like the BedJet. 
So if you are looking for a cheaper alternative to climate control systems, bFan is a great choice.
The bFan bed cooling system is an excellent choice for those looking for an affordable option. It is especially helpful if you need only moderate cooling to improve your sleep quality.
If you're looking for a bed fan, the Brookstone is another great option. 
It works the same way as the bFan and blows air directly into your bed under your sheets.
It can be placed anywhere near the bed depending on the direction you prefer the air to reach you. Place it at the foot of your bed for full coverage.
This fan is great for all types of beds, even extra-thick ones. The hose can be adjusted from 26″ up to 40″.
Brookstone fans come with a wireless remote that you can place on your nightstand. You can adjust the fan speed by turning the ring at its top.
The Brookstone fan is great for what it does – blows room temperature air into your sheets. 
That said, the build quality is a problem and has been the subject of many customer complaints.
The fan feels fragile and moves around at night. According to many customers, the fan is not durable.
The bFan is a longer-lasting, higher-quality bed fan.  Buy that one instead.
The Brookstone bed fan is powerful and has great airflow. And the wireless remote makes it easy to control the fan with your smartphone. 
But we think the bFan is better for most people because it has better build quality and provides just as much airflow for a lower price.
How to Choose the Right Bed Cooling System
These are some things to keep in mind when shopping for a bed-cooling system.
Are you single sleeper or a couple?
Your search will be quick and easy if you are the only one sleeping. First, find the system that suits your cooling requirements and purchase the correct size bed.
You must consider the needs of both you and your partner when you are in a relationship.
You can choose to sleep in the same temperature range if you find a cooling system that is right for you.
A dual-zone cooling system is the best option if you constantly fight over the thermostat at night due to your different temperature preferences.
Dual-zone systems allow you to control which side of your bed you want.
Your central AC is not as efficient as a dedicated bed-cooling system and wastes a lot of energy when all you need to do is cool your bed. 
It is better to have a portable AC or window AC in your bedroom. However, some people feel that the AC can make the air dry and uncomfortably hot.
Bed cooling systems provide targeted cooling for your bed without affecting the rest of the room. As a result, it is more efficient and effective at cooling you down.  
Best of all, you can turn your thermostat up to 75-78 all night, saving money in the long run.
A bed fan is a great option for cheap cooling. If you need only mild cooling, it's a great choice.
Air-cooled systems like the BedJet will cool you down precisely and ease night sweats.
A water-cooled system like the Ooler and Cube provide even cooling and heating and precise temperature regulation. These systems are the best for people who need to cool their beds below ambient temperature and aren't as concerned about night sweats.
A cooling mattress topper made of gel foam, latex foam, or another cooling material is a cheaper option than a bed fan. .
Advanced water- and air-cooling systems not only cool your bed but also heat it. 
To find out how warm or cold the system can make your bed, check its temperature range.
Water cooling systems typically have a temperature range of 55°F to 115°F, with the ability to maintain a bed temperature of up to 15 degrees F lower than room temperature. 
The thermal range for air cooling systems is usually smaller, and their ability to cool a bed is typically limited to 5 to 10 degrees F below ambient temperature.
Temperature ranges are not provided for bed fans and lower-cost active cooling systems like the Mattress Cooler Classic because they do not actually cool the water/air before pushing it into your bed.
A dedicated wireless remote control is the best kind of control for most bed-cooling systems because it is easy to use, never leaves your bedroom, and you don't need to take your phone to bed (which brings with it all sorts of alarms and alerts).
If you are a fan of smart home tech, then you can control your bed-cooling system from your smartphone using Bluetooth or WiFi.  Some, such as The Pod by Eight Sleep, also provide voice control via smart assistants.
That said, you should ask yourself whether you really will use such features or if they are just a cool gimmick that will lose their appeal in time. 
Avoid buying a bed-cooling system that requires you to control the temperature using buttons on the control panel. They can be difficult to reach underneath the bed at night.
Not all cooling systems can be purchased in a split (dual-zone) configuration.  
But if you sleep with a partner and especially if you argue over the thermostat, then you definitely should consider a dual-zone option as a high priority. It completely changes the game when it comes to helping a couple relax – and not argue – before bed.
You will need to regularly add water to a water-cooled system.  In addition, you will need to keep the water clean and bacteria-free.
Although air cooling systems do not require changing their media, you will need to change (or wash) the air filter every few months.
Mattress pads and fans consume no replenishables, in contrast.
Here are some tips for cleaning and maintaining your bed cooling system.
Look for cooling mattress pads that can be machine-washed. The entire pad, if it has no removable cover, should be machine washable.
Water cooling systems should be simple to drain and clean, as well. The Ooler has a UV self-cleaning system that makes this easier. If your water-cooled system does not come with one, make sure to check if any special antibacterial and cleaning solutions are required.
Air-cooled systems require no special cleaning or maintenance, aside from changing air filters.
You will likely use your cooling system all night long every night, so knowing how much energy it consumes is essential.
It is easy to calculate your electricity consumption by multiplying the wattage (check the product description to see the wattage) by the hours you have use it at night.
Divide this number by1,000 to get kWh. Then, determine the cost of running the system, by multiplying the kilowatt-hours by the per-kWh charge from your utility.
Bed cooling systems generally use very little electricity compared to central or room ACs, however.  
In no case will you lose on energy if you substitute a bed-cooling system for lowering the thermostat.
Last, make sure to review the warranty.
Examine the warranty coverage period. It should be between 1-3 years. 
Also consider the defects covered and the prorata terms, if any.
You should also check whether the manufacturer offers a satisfaction or quality guarantee that allows you to return the product if it is not what you expected.
What is the working principle of a water cooling pad?
The control unit cools the water, then circulates it through a small tube embedded in the pad. The cool water absorbs the heat from the mattress and your body.
Is it safe to use bed cooling systems for children?
A bed cooling system is safe for most children at the right temperature (65 to 70 degrees is ideal).  Avoid using it with infants or babies under two years old, however.
For restrictions regarding age or health, please refer to the manufacturer's specifications.
What is the best place to place a cooling pad?
Place the sheet directly on top of your mattress. Next, place a fitted sheet with breathable fabric on top of the mattress.
You can use an air cooling or bed fan to cool your body by placing the hose between the top and bottom sheets and feel the air contact your skin.
A dedicated bed cooling system is a cost-effective way to achieve the perfect sleeping environment – and to resolve partner disputes over where the thermostat should be set.
This guide should help you to find the best bed cooling system for your specific needs.
If you have any questions about this subject, please leave us a comment below!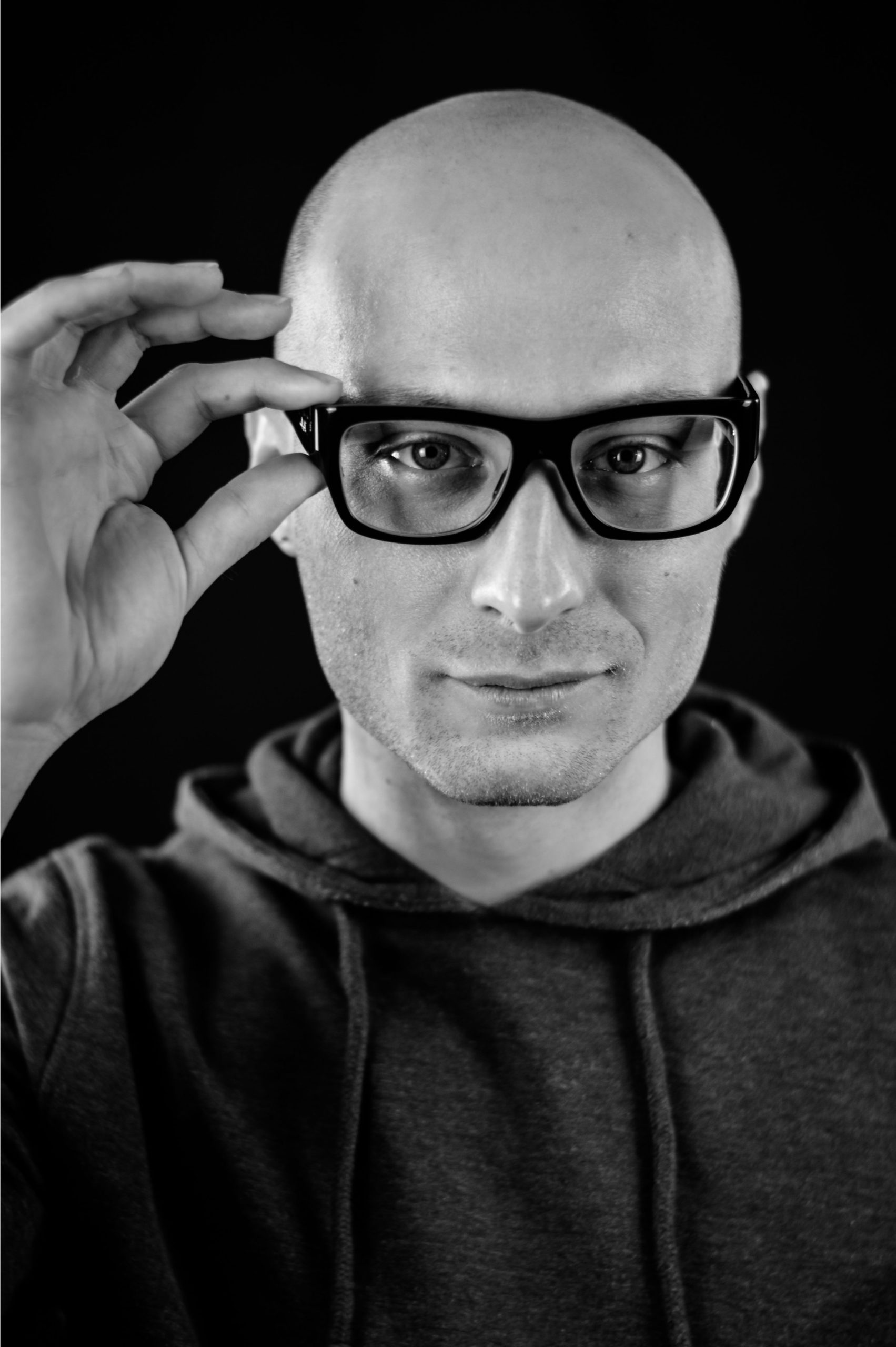 As a degreed engineer, I love new technology as much as you do (perhaps more). I also understand how to sort the best products from the rest. My team and I spend dozens of hours each week reviewing the best & latest products for your bedroom. Many are tested in-house, and others we break down based on our technical understanding. Whether you need a bed-cooling system, an adjustable bed, or a new CPAP machine – we've got you covered.