Shopping for a wool mattress topper?
You have come to the right place.
There are many types of wool mattress toppers on the market today. 
Additionally, there are many kinds of wool used in mattress toppers, from pure wool to mixed fiber.
All-wool mattress toppers share the same qualities: a plush feel, excellent moisture-wicking abilities, and superior temperature regulation.  
So they are perfect for people who want to avoid the too-hot polyester feel that is so common in cheap toppers.
If you're interested in other materials and types of toppers, check out our other mattress topper buying guides:
What's In This Buying Guide
This buying guide reviews the best wool toppers you can buy online. We recommend a top pick for a range of common needs, situations, and product types.
Then we review each of our picks in detail.
Finally, we explain the advantages of wool toppers and offer tips for shopping online for a wool topper.
Best Wool Mattress Toppers
PlushBeds Natural Topper

Materials
Natural wool and organic cotton cover
Mattress Toppers 76-Inch Organic Merino wool

Best Temperature Regulation

Materials
Organic merino wool with cotton cover
SnugFleece Elite Pad

Materials
Wool exterior with polyester backing
Alpaca Wool Plush Topper

Materials
Wool, Alpaca and an organic cotton cover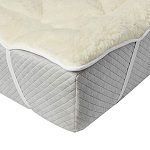 Perfect Fit Reversible Topper

Materials
Wool face, cotton reverse and down alternative fill
Holy Lamb Topper

Materials
Natural wool and organic cotton cover
We love the PlushBeds wool topper because it is all-natural, has exceptional handmade quality, and is luxurious comfort.
Let's begin with the first. The PlushBeds topper includes the wool sateen cover, and all the materials are 100% natural. It does not use synthetic materials or fillers.
Each PlushBeds topper is custom made. The topper is made in the USA by hand when you place your order. The sourcing of all materials is from the USA.
Toppers made by hand are of excellent quality. The finest wool batting complements the soft, luxurious 400TC sateen cotton cover.
The PlushBeds wool topper has a thickness of 3 inches. It hugs your body, improving comfort and relieving pressure points.
You will feel comfortable throughout the year, thanks to the combination of breathable cotton covering and a wool filling. As a result, you won't feel too hot or too cold.
Unfortunately, all that luxury comfort comes at a high cost. So if you have a limited budget, the PlushBeds topper is not the best choice.
PlushBeds cannot accept returns because each topper is custom-made and handmade. All sales are final.
PlushBeds handmade wool topper is one of the most important upgrades you can make to your bed.
Unfortunately, it is expensive and non-returnable. However, we think the luxury comfort and high-quality materials are well worth the price.
The Sleep & Beyond mattress topper is 100% organic cotton and contains a full fill of organic merino Wool.
It is great at controlling temperature. It will keep you cool in the summer and warm during winter.
The cotton cover gives a finishing touch to the wool filling. As a result, it is highly breathable and prevents overheating.
This topper is great for people with allergies. Organic wool and cotton covers are hypoallergenic, resistant to mold and dust mites.
The Sleep & Beyond topper is approximately 1.5 inches thick. This is enough padding to alleviate pressure points and not make your bed too soft.
Anchor bands have the Sleep & Beyond mattress topper. To prevent the topper shifting, simply slip the straps underneath your mattress.
This topper will not disappoint if you're looking for a topper with a lofty feel. It can cushion a wide range of body weights but might feel a little thinner for heavier ones.
It is also not machine washable. Instead, the manufacturer suggests using a washable cover to keep it clean.
The unique design is the hallmark of the SnugFleece topper. It has a unique design. Instead of the traditional filling in a cover, it has a polyester backing underneath and wool outside. As a result, your skin will be in close contact with the wool.
This gives the topper a soft and fluffy feel, which makes it ideal for cushioning pressure points.
The pad can also be machine washed, thanks to this design. Pads with wool filling are not washable. It is easier to clean the SnugFleece topper. It doesn't need a cover, as you can wash it if it gets dirty or becomes stale.
It is simple to attach the SnugFleece pads to your mattress. The elastic corner straps allow for a mattress to fit up to 18 inches deep.
The polyester backing underneath the wool affects the topper's breathability. It sleeps cool for most people but can get a little too warm in the summer heat.
Better would be to use a cotton backing.
SnugFleece being cheaper than other wool toppers means that a little bit of polyester is acceptable. Polyester makes the topper more durable and can be machine-washed easily.
A too-firm mattress can lead to sleepless nights and miserable mornings—the SnugFleece topper cushions your back, shoulders, and hips from excessive pressure.
If you suffer from back, hip, or shoulder pain, it can help to improve your comfort.
The Alpaca wool topper combines three premium materials to make a luxurious but expensive mattress topper.
A layer of Alpaca fiber is in the middle of the top. Alpaca fiber is soft and breathable, and it insulates better than sheep's wool.
The topper is two inches thick and made of Alpaca, which gives it a lofty and plush feel that is especially good for pressure-point relief.
An inch of sheep's Wool is on either side of the Alpaca layers. The wool gives the topper a more comfortable feel and helps to maintain a constant temperature throughout the year.
An ultra-soft, organic cotton cover wraps around Alpaca and wool.
Avocado Green Alpaca Topper consists of high-quality materials. It's also sustainably produced with the sourcing of all the materials in ethical and environmentally-friendly ways.
The Avocado Green Alpaca topper has two significant issues. 
One, the price
A full mattress costs about the same amount as a queen-size topper. The price is reasonable when you consider all-natural, luxurious organic materials.
This is not the right wool topper for you if you're looking for something more affordable.
Two, maintenance.
The Alpaca topper is too delicate to be washed in a washing machine. You will need a cover to keep your Alpaca topper clean.
The Avocado Green Alpaca Topper is worth the extra cost.
Wool toppers aren't machine washable. This makes it difficult to maintain. Either you spend time cleaning every spot, or you can spend more on a cover.
We recommend the Perfect Fit wool and cotton alternative topper if you're looking for an easy-to-clean wool topper.
Our top pick for a budget is the Perfect Fit topper. It is cheaper than other wool toppers.
The Perfect Fit Topper is made of 300GSM 100% washable wool, and the other side is 100% 140TC cotton. The topper is usable on one or both sides. You can choose between the plush wool or soft cotton sides of this reversible design.
Customers report that they almost always sleep on the wool side. It is not only soft but also better at controlling temperature. It will keep you cool in hot weather and warm in the cold. 
People with night sweats will love the wool side. It doesn't get wet and wicks away moisture.
The topper inside has a down alternative. Although it isn't as fluffy and luxurious as the wool toppers mentioned in this buying guide, it does a great job of relieving pressure points.
Perfect Fit mattress toppers are easy to maintain. This wool topper is machine washable, unlike many others, and doesn't need a protective covering.
Perfect Fit is not suitable if you're looking for an organic or natural-wool mattress topper. It combines both synthetic and natural materials.
If you want a topper that hugs your body, the Perfect Fit topper may not be the right choice. Although Perfect Fit is a bit more luxurious than other toppers, it doesn't feel as heavy as others.
Perfect Fit is an excellent choice for anyone looking to purchase an easy-to-maintain and affordable wool topper.
The Holy Lamb wool topper is constructed the same way as the PlushBeds: wool batting and cotton covers.
All materials, even the wool, and covers are organic and handcrafted to ensure the highest quality. Each topper is handmade in Oakville, Washington.
Temperature regulation is as you would expect from a wool or cotton topper. The cotton cover keeps the temperature stable and wicks moisture away. While the wool interior is cool and warm, it insulates and cools when it gets too hot.
The Holy Lamb wool topper is very expensive. We recommend the Perfect Fit wool topper, which we reviewed earlier.
Holy Lamb, unlike PlushBeds, does accept returns. However, there is a 10% restocking charge. Although we would prefer no returns, 10% is better than none. 
The Holy Lamb wool topper is the ideal addition to any bed if you are a fan of organic bedding.
Why Use Wool Mattress Toppers
Toppers can be cheaper than buying a brand new mattress. A topper is useful if your mattress is too firm or needs more loft.
Wool toppers offer many advantages over latex and memory foam toppers.
They offer a unique plush feeling that memory foam cannot match. A wool mattress topper is more luxurious than other types of toppers.
Second, wool is the king of temperature regulation. A latex topper can keep you cool. A wool topper will keep you cool in hot weather and warm you in the cold.
For year-round comfort, a wool topper is your best option. 
Wool also helps regulate moisture. So a wool topper is a better choice than memory foam or latex if you sweat a lot at night.
Buying Guide: How to Select Good Wool Mattress Toppers
Quality is essential with every topper. The price will reflect the level of comfort, support, and longevity.
Choose the best quality topper that your budget will permit.
However, a higher price does not necessarily mean comfort. You should choose a topper that suits your needs. Do not buy the cheapest topper you can afford.
A thicker plush topper, for example, will cost more. However, if you want a topper with a higher loft and better support, the topper will be uncomfortable.
Next, choose if you want an organic or natural wool topper. Expect to pay more if you choose organic or natural wool toppers. A queen-size natural/organic wool topper can set you back as high as $500
A mixed-material wool topper is a good option if you have a tight budget. You will find natural wool mixed with synthetic materials such as polyester or down. The benefits of wool are still available, but the price is lower.
Most wool toppers, mainly organic, cannot be machine washed. The topper can only be spot cleaned.
You will need an additional washable cover to keep your topper clean.
A mixed-material topper is the best option if you are looking for an easy-to-maintain wool topper. A wool topper with cotton or polyester backing is usually safe to wash in a washing machine.
What are the advantages and disadvantages of a wool mattress topper?
Benefits of Wool Mattress Toppers
A wool topper can significantly increase the comfort of a too-firm bed. The wool topper adds a soft layer to your mattress, which reduces soreness in your back, shoulders, and hips.
It can also relieve back pain.
Wool is versatile and useful in all seasons. The wool topper not only cools but also insulates when it is cold.
A wool mattress topper provides excellent airflow and keeps you cool when it gets hot.
Wool fibers can be crimped or kinked. This creates tiny air pockets that insulate your wool mattress topper and help retain heat better during colder months.
Wool absorbs sweat while keeping you dry. A wool topper is a great option if you suffer from night sweats.
The buildup of bacteria and moisture in synthetic materials such as microfiber and polyester can cause them to start to smell. Wool is more resistant to odors which makes it easier for your bed to smell fresh.
Wool toppers can sometimes have a strong 'barnyard-like smell when they are new. This smell fades after a few days.
Hypoallergenic and environmentally friendly
Wool fibers, unlike synthetic fibers and other natural fibers, have a hollow exterior with a flexible, water-repellent exterior. Because allergens thrive in hot and humid environments, this creates an environment that is hostile to them.
This is why wool mattress toppers are less likely to contain fungal spores caused by dust mites.
Wool mattress toppers are more eco-friendly, especially 100% natural wool ones.
What kinds of mattress can I use a wool topper on?
Wool mattress toppers work well for any type of mattress (foam, latex, or innerspring).
A wool topper is useful for a futon, sleeper sofa, or other types of sofa.
Are wool mattress toppers suitable for babies?
We do not recommend using a wool mattress topper for a crib mattress because babies require a firm surface to sleep on. In addition, a soft topper could pose a risk of suffocation.
A wool mattress topper is suitable for toddlers up to two years old. It makes them sleep better, without feeling too hot or cold.
Do wool mattress toppers have an odor?
Wool has a natural smell, just like all-natural materials. However, a new topper has a more pungent odor. Once you have received your wool topper, remove the plastic wrap immediately and let it air dry. The odor will disappear if it is allowed to air out for longer.
How do you clean a wool mattress topper?
Your natural wool topper can be cared for by simply letting it air dry every day.
Take off your bed covers and let the topper's most active parts breathe. Allow your topper to air out every day to help it release moisture and keep fresh.
Make sure to change your topper every other day. This will ensure that your topper is comfortable and does not make body impressions.
Wool should be washed with care when washing. Follow the manufacturer's instructions. You may have to do spot cleaning or dry cleaning.
Avoid using hot water or drying in the washer. Exposure to heat can shrink the toppers, and they may become lumpy.